Westchester NY accountant Paul Herman of Herman & Company CPA's is here for all your financial needs. Please contact us if you have questions, and to receive your free personal finance consultation!
President-elect Donald Trump has confirmed that, during his first day in office, he will withdraw the United States from the Trans-Pacific Partnership (TPP) trade treaty.
In a short video on YouTube, he said that he would immediately "issue a notification of intent to withdraw from the TPP – a potential disaster for our country. Instead, we will negotiate fair, bilateral trade deals that bring jobs and industry back onto American shores." The decision was expected, but perhaps not as one of the first executive actions "he would take on day one."
Covering some 40 percent of the global economy, TPP was signed in February this year by Australia, Brunei, Canada, Chile, Japan, Malaysia, Mexico, New Zealand, Peru, Singapore, the United States, and Vietnam. Approximately 86 percent of tariffs on industrial goods will be eliminated if the agreement enters into force.
With TPP in doubt, China has been pushing for a completion of negotiations for the Regional Comprehensive Economic Partnership (RCEP), as part of its longer term objective to oversee the formation of a wider Free Trade Area of the Asia Pacific.
While it is unlikely to have the same level of market access benefits as TPP, RCEP aims to bring together the existing free trade agreements of China, Japan, South Korea, India, Australia, and New Zealand with the Association of Southeast Asian Nations (ASEAN) into a single enhanced comprehensive agreement. ASEAN comprises Brunei, Cambodia, Indonesia, Laos, Malaysia, Myanmar, the Philippines, Singapore, Thailand, and Vietnam.
Paul S. Herman CPA, a tax expert for individuals and businesses, is the founder of Herman & Company, CPA's PC in White Plains, New York.  He provides guidance and strategies to improve clients' financial well-being.
It's that time of year again – time to negotiate your contract for next year.
You want to enter into contract discussions armed with the following:
Financial Info - Accurate information about your earnings.
Performance Metrics – Stats on the golf program (number of rounds, lessons, etc.).
Comparables - Head pro compensation at comparable clubs in your area.
Goal - A strategy for what you want to achieve.
In this newsletter, I will focus on the financials.
Why Your Financials Matter
Your club's management (Golf committee, general manager, president, treasurer) should have a clear picture of your total compensation. That includes whatever the club pays you plus income generated through your outside entity (LLC, S-Corp, etc.).
That information is essential to understanding whether you are fairly compensated both for your performance and in comparison to your peers.
Your club management may not know how much money you really make. And they may think you're doing just fine.
Your job is to educate them with facts.  But your financials must be credible.
I can't emphasize this enough. If your club management doesn't believe the numbers, you will be at a severe disadvantage.
Preparing Your Financials
Your financial statement should:
Be complete and accurate
Cover multiple years
Clearly illustrate trends
Tie to your tax returns
Provide a sufficient but not overwhelming amount of detail
If you use bookkeeping software, such as QuickBooks, you probably already have the information you need. The challenge is to put the information into a format that your club management can understand and digest.
Work with your accountant to ensure that your financials are accurate and complete. Prepare a spreadsheet that covers four to five years (if you have that much history) and all the appropriate income and expense categories.
I would recommend a one-page spreadsheet with an appropriate amount of detail (but not an eye chart with dozens of lines).
Make it easy to read. Color code the statement to highlight totals and trends.
Be sure that you can reconcile the total taxable income in each year to each year's tax return.
Client Illustration 
I recently worked with a golf pro preparing his financials for discussions with the golf committee. To preserve confidentiality, I will call my client Fred.
The bottom line is that Fred's pre-tax profit dropped 8% over the four-year period. Below is a chart that illustrates the trend.
Note something interesting here. A comparison of Fred's income from 2014 to 2015 shows an INCREASE in his pre-tax profit over the year. But the overall trend over the four-year period is DOWN.
That's a very important distinction. Trends are key as opposed to a snapshot of a short period.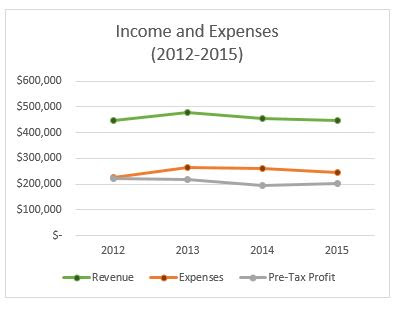 The golf committee at Fred's club was impressed with the completeness and accuracy of his financials. They have not yet finalized Fred's 2017 compensation.
But because they (a) are pleased with Fred's performance and (b) recognize that his income has declined, they are open to changing his compensation.
Financial Statement Components
Here is an overview of the components of Fred's spreadsheet.
There are two sources of revenue: "ABC Golf, Inc" (disguised name of his S-Corporation) and his club salary.
ABC Golf, Inc.
Merchandise Gross Profit – Gross profit (Revenue less cost of goods) from the golf shop.
Bag/Range/Other – Primarily driving range fees and bag storage fees.
Net Payroll – Salary payments to Fred and his assistants less lesson fee reimbursement
Other Expenses – Operating expenses for the golf program
ABC Golf, Inc. Salary – The salary Fred pays himself out of ABC's revenue
Club Salary – The salary Fred receives from the Club directly
Make Your Case with Facts
Fred got a good reception from his golf committee because he made a strong argument with his financial presentation. It's hard to dispute the facts.
As former New York Mayor Michael Bloomberg used to say "In God we trust. Everyone else brings data."
If you would like a sample spreadsheet, please email me at paul@hermancpa.com. Also, I am happy to provide any golf pro (at no cost) a 30-minute consultation on preparing the spreadsheet. Please email me to set up an appointment.
Westchester NY accountant Paul Herman of Herman & Company CPA's is here for all your financial needs. Please contact us if you have questions, and to receive your free personal finance consultation!
By: Bankrate
Tax crooks continue to come up with new ways to try to get their hands on your money.
The latest scam is a play on a common tax notice that's sent to taxpayers. The fake emails purport to be about an Internal Revenue Service bill related to the Affordable Care Act.
How to tell it's a phony email
The melding of the CP2000, a commonly snail-mailed communication from the IRS, and an email request for money represents just the latest evolution in tax scams.
The crooks apparently are trying to latch on to the IRS' frequent reminders that it sends notices to taxpayers before asking for money.
But where the IRS sends its real notices via the U.S. Postal Service, in this scam the fake notice is delivered as an email attachment.
The fraudulent CP2000 notice, notes the IRS in a statement about this new scheme, includes a payment request that taxpayers write a check to IRS, instead of to the U.S. Treasury (the real payment entity), and send the check to a processing center at a Post Office box address.
But don't do it.
The scam notices use a tax matter that many filers still find confusing, the Affordable Care Act, commonly referred to as Obamacare, and its possible tax if you have insufficient health coverage. In this case, the fake CP2000 seeks information about taxpayers' 2014 health care coverage.
There also is a payment link within the email itself.
RATE SEARCH: Are you planning to relocate? Compare mortgage rates at Bankrate.com today!
How the IRS will, and won't, contact you
The one good thing that comes from this latest attempted tax crime is that it gives the IRS — and Bankrate — the chance to offer a reminder about how and when you'll hear from the tax agency.
The CP2000 is a real notice that the IRS commonly mails out, using the U.S. Postal Service, regarding questions about a taxpayer's filings.
But the IRS will never send a CP2000 in an email to taxpayers.
The agency does not initiate contact with taxpayers by email or through social media platforms.
If you receive the scam email, the IRS says forward it to phishing@irs.gov. Then delete it.
If receive any communication that appears to be from the IRS and makes you worry about your tax situation, call the agency directly at 1-800-829-1040 to discuss your concerns.
Keep an eye on your finances
And if you fear that your tax or other personal financial data has been compromised, monitor your credit reports. You can do so for free by using mybankrate.com.
Keep up with IRS and tax news, as well as find filing tips, calculators and more at Bankrate's Tax Center.
Paul S. Herman CPA, a tax expert for individuals and businesses, is the founder of Herman & Company, CPA's PC in White Plains, New York.  He provides guidance and strategies to improve clients' financial well-being.
Any U.S. tax advice contained in the body of this website is not intended or written to be used, and cannot be used, by the recipient for the purpose of avoiding penalties that may be imposed under the Internal Revenue Code or applicable state or local tax law provisions.