It's that time of year again – time to negotiate your contract for next year.
You want to enter into contract discussions armed with the following:
Financial Info - Accurate information about your earnings.
Performance Metrics – Stats on the golf program (number of rounds, lessons, etc.).
Comparables - Head pro compensation at comparable clubs in your area.
Goal - A strategy for what you want to achieve.
In this newsletter, I will focus on the financials.
Why Your Financials Matter
Your club's management (Golf committee, general manager, president, treasurer) should have a clear picture of your total compensation. That includes whatever the club pays you plus income generated through your outside entity (LLC, S-Corp, etc.).
That information is essential to understanding whether you are fairly compensated both for your performance and in comparison to your peers.
Your club management may not know how much money you really make. And they may think you're doing just fine.
Your job is to educate them with facts.  But your financials must be credible.
I can't emphasize this enough. If your club management doesn't believe the numbers, you will be at a severe disadvantage.
Preparing Your Financials
Your financial statement should:
Be complete and accurate
Cover multiple years
Clearly illustrate trends
Tie to your tax returns
Provide a sufficient but not overwhelming amount of detail
If you use bookkeeping software, such as QuickBooks, you probably already have the information you need. The challenge is to put the information into a format that your club management can understand and digest.
Work with your accountant to ensure that your financials are accurate and complete. Prepare a spreadsheet that covers four to five years (if you have that much history) and all the appropriate income and expense categories.
I would recommend a one-page spreadsheet with an appropriate amount of detail (but not an eye chart with dozens of lines).
Make it easy to read. Color code the statement to highlight totals and trends.
Be sure that you can reconcile the total taxable income in each year to each year's tax return.
Client Illustration 
I recently worked with a golf pro preparing his financials for discussions with the golf committee. To preserve confidentiality, I will call my client Fred.
The bottom line is that Fred's pre-tax profit dropped 8% over the four-year period. Below is a chart that illustrates the trend.
Note something interesting here. A comparison of Fred's income from 2014 to 2015 shows an INCREASE in his pre-tax profit over the year. But the overall trend over the four-year period is DOWN.
That's a very important distinction. Trends are key as opposed to a snapshot of a short period.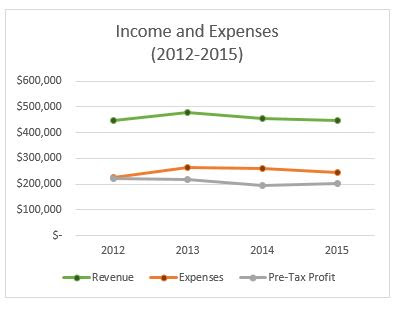 The golf committee at Fred's club was impressed with the completeness and accuracy of his financials. They have not yet finalized Fred's 2017 compensation.
But because they (a) are pleased with Fred's performance and (b) recognize that his income has declined, they are open to changing his compensation.
Financial Statement Components
Here is an overview of the components of Fred's spreadsheet.
There are two sources of revenue: "ABC Golf, Inc" (disguised name of his S-Corporation) and his club salary.
ABC Golf, Inc.
Merchandise Gross Profit – Gross profit (Revenue less cost of goods) from the golf shop.
Bag/Range/Other – Primarily driving range fees and bag storage fees.
Net Payroll – Salary payments to Fred and his assistants less lesson fee reimbursement
Other Expenses – Operating expenses for the golf program
ABC Golf, Inc. Salary – The salary Fred pays himself out of ABC's revenue
Club Salary – The salary Fred receives from the Club directly
Make Your Case with Facts
Fred got a good reception from his golf committee because he made a strong argument with his financial presentation. It's hard to dispute the facts.
As former New York Mayor Michael Bloomberg used to say "In God we trust. Everyone else brings data."
If you would like a sample spreadsheet, please email me at paul@hermancpa.com. Also, I am happy to provide any golf pro (at no cost) a 30-minute consultation on preparing the spreadsheet. Please email me to set up an appointment.
As readers of The Golf Pro Advisor know, I regularly stress the importance of increasing your value to your club. This can, in turn, increase your job security, your income, and your marketability (to other clubs).
One way to increase your value to the club is to create a vibrant, growing youth program. This offers several advantages:
Grooming a new generation of active golfers and potential members
Stimulating increased play
Generating income from program fees, lessons, clinics, coaching, and golf shop sales
Forging stronger ties with parents and increasing their loyalty to the club and to you
Attracting new members
If your club has, say, 300 members, there are probably at least 300 children between ages 5 and 17. Let's say you recruit a quarter of this group into the golf program.
That could mean real money and, perhaps more importantly, a lot of parents who support the program and whom you develop a closer relationship with.
In developing a youth program, you face two potential problems: family indifference and adult golfer resistance.
You need to convince families that golf is fun, rewarding, and relatively easy to learn. You also need to establish a family friendly culture that encourages informal play on the golf course.
Here are three junior programs recently featured in PGA magazine:
1.  Golf Leagues
Program – Mark Keating at Reserve Vineyards and Golf Club in Aloha, Oregon created teams comprised of boys and girls organized by age group. One team was for 7-13-year-olds. Another was for 14 and 15 year olds.
Mark convinced a number of other Portland area clubs to field teams. Ultimately, there were 12 teams that played not only in the summer but also through the fall.
Results – 15% increase (?) in lessonrevenue from kids and additional lessons for parents. Another benefit was the cart rentals from the parents who watched their kids play in the leagues.
2. Club Fitting Day
Program – Hugh Matthis at Tavistock Country Club in Haddonfield, New Jersey runs an annual event to fit kids for clubs and golf clothing. The event includes games to keep the kids occupied.
Hugh also promotes Club Fitting Day via the club newsletter, email blasts, and flyers.
Results – Some 75 kids participated in the event last year and sales of equipment/clothing increased by 15% over the previous year.
3. Themed Competition
Program - Andy Miller at LedgeRock Golf Club in Reading, Pennsylvania runs a Drive, Chip & Putt Championship as part of the junior golf program. Last Fall, he divided the juniors into four teams, each with players of varying ages and skill levels.
Each team had college name – Ohio State – Red; Auburn – Orange etc. This summer he will use an Olympic theme and assign each team a country name.
Results – A 3% to 5% increase in overall club revenue. This is the result of not only the program fees but of additional golf shop purchases and food purchases by parents watching their kids play.
These are only three examples. There are more in the Best Practices section on the PGA Magazine site.
It's not too late to develop fall junior programs. That may a good way to test concepts that you can roll out more formally next year.
As you develop your 2017 junior golf plan this winter, keep in mind the following:
1. Set Goals – Create revenue and participation goals for each program plus ancillary revenue from lessons and golf shop sales
2.  Measure Everything! – If you don't measure it, you can't manage it
3. Promote Effectively – Send targeted promotions directly to the families with kids as well as general information to the entire membership.
4. Keep Your Golf Committee Informed – Share your plans and program results with your golf committee. Make sure the committee recognizes the impact of the programs!
I recently had the pleasure of speaking with PGA Pro Michael Heisterkamp. Mike has been the head golf pro at Chagrin Valley Country Club in Chagrin Falls, OH for the past 22 years. He seems to have cracked the member retention code.
Mike Heisterkamp's job is to run a golf program. But his mission is to attract and retain members for his club.
Mike started with his own belief system as to what is important in doing his job well. He then looked to other pros around the country and found that the most successful pros interacted regularly with their members.
Through some study and analysis, Mike discovered that every member who has done at least one of the following three things in the past few years has stayed at the club:
Played a round with the pro
Taken at least three lessons in a year
Gone on a golf trip with the pro
Mike's System
Like all good head pros, Mike interacts with members and guests regularly: playing, meeting and greeting. But behind his casual and friendly demeanor is a system.
He tracks member activity methodically. For each member he knows: number and dates of lessons, golf shop purchases,  and number of tournaments and golf trips.
He also stays in touch with the club membership office to learn which members have resigned and who has joined the club. Then he matches that info to his activity tracking system.
Playing with the Pro
Mike runs a season-long "play-with-the-pro" tournament. He plays with many members during the course of the tournament and plays with some members multiple times.
He keeps a large scoreboard in the locker room to encourage participation and maintain enthusiasm. At the end of the season, he runs a shoot-out for the top three teams.
Lessons
Mike finds that if a member takes three or more lessons a year, that member stays with the club. He tracks the lessons that each member takes and, without being pushy, encourages certain members to take more lessons.
At the same time, Mike and his assistants regularly are on the driving range giving members free tips. This shows members that the pros care. It also encourages members to take more lessons.
Golf Trips
Mike runs a golf trip each year for about 15 members. On the even years, the trip is in the US and runs for four or five days. In the odd years, it's a 10-day international trip.
Through his network of golf professionals, Mike gets his members on some of the top courses in the US and Europe.  Sign me up!
Mike sends out an email invitation to the entire membership for each trip a year in advance. The trips are so popular that they are usually filled within a week of Mike's email.
Mike tries to avoid having the same members on the trip year after year. He aims to mix up the group by having no more than half of the previous trip's group on the next trip.
Attracting Members
Mike goes out of his way to make non-members feel welcome at the club. When a member brings a guest to play, Mike makes it his business to know when the guest is coming and his or her name so that he can greet and welcome the guest by name.
He also regularly plays with prospective members. He says that in the past few years 11 out of 12 candidates for membership who played with him subsequently joined the club.
That's a .917 batting average. Awesome!
Membership is Job One
Mike recognizes that maintaining the Club's membership is not just the Membership Committee's job. It's his job, too.
The head golf pro plays an important role in providing a great member experience. That's why members join and stay.
But Mike wouldn't be as effective as he is without a system. He has devised one that works.
It allows him to contribute in a meaningful way to his club's well-being, increase his value to the club and hopefully increase his compensation.
I am sure it also increases his attractiveness to other clubs looking to hire a new pro.  Mike's systemized approach is something all head pros should consider.
Any U.S. tax advice contained in the body of this website is not intended or written to be used, and cannot be used, by the recipient for the purpose of avoiding penalties that may be imposed under the Internal Revenue Code or applicable state or local tax law provisions.